POPCORN WORDS:             STOP   GO   YES   NO  ORANGE                                 We are working very hard on stretching out the sounds in our popcorn words.  We discovered 2 of our popcorn words rhymed…NO and GO. We read a lot of pumpkin books to celebrate the color orange.  We celebrated the color orange by wearing orange and making a pumpkin! 
READER'S WORKSHOP:  This week we learned that readers can be storytellers!  We read the book The Little Old Lady Who Was Not Afraid of Anything and then used props to retell the story. We learned that our props need to be in the correct order for the to story make sense. I hope they came home and retold the story for you using their props we made! We also had fun dressing up for the parts of the story and retelling it! What a fun story!!
MATH:  This week in math we started to tell addition and subtraction stories. For example: "3 teddy bears were eating dinner. 2 more teddy bears came to eat dinner too. How many teddy bears were eating dinner? 3 + 2 = 5." We are also learning to see that numbers 6-10 are composed of a 5-group and more ones.          6 + 1 =7.   Friday math games were so fun!! Four different GVSU baseball players and their coach joined us again today for math games. We played RACE TO FILL THE PUMPKIN! (reading numbers and finding that many objects), HOW MANY LEAVES TALL AM I? (the kids measured how many leaves tall they are and their friends). COUNTING SEEDS! (counting the seeds in the apple and finding the correct number). FALLING LEAVES! (counting the dots on a leaf and finding the written number). We LOVE Friday math games!!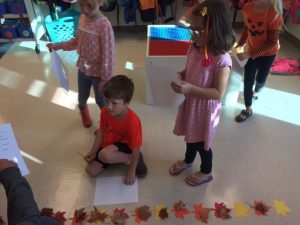 WRITING: The kinders are doing a fabulous job drawing detailed pictures, labeling their pictures and stretching out sounds in words as we write a matching sentence while using as many popcorn words as we can.  After that is all done, the kinders share their writings with their partners.  This week's topics  were about stop signs, traffic lights, walking quietly in line and making green choices.
HANDWRITING: We continued to learned how to properly write more FROG JUMP letters…B,P, N,M. We write a big line down and then frog jump to the top to finish the letter.  We had fun practicing in our workbooks and we also practiced on chalkboards for the first time!! We loved the chalkboards!! 
SPLIT LIT: During our split lit time, we practiced beginning sounds in words, letter identification and letter sounds. We had a lot of fun playing the new game CRASH!
MYSTERY READER: We enjoyed having 4 Mystery Readers this week!! Evelyn's mom, Mrs. Stadt (who is also a first grade teacher at Georgetown) read us the book A Perfectly Messed Up Story. It was funny and we had so much fun listening to the story! It was really fun to see how excited Evie was to see her mom!!
Kaylee's step-mom, Sarah, came in this week too! She read us Kaylee's favorite story, The Berenstain Bears and The Forgiving Tree. It was a great story and Kaylee was so excited to see Sarah!!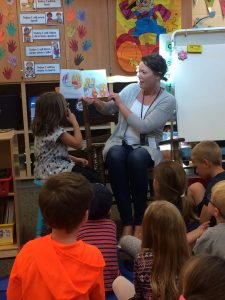 Ava's grandma was another mystery reader this week! She is a teacher at a different school and came to our school to read to Ava and her class! She read our class Creepy Carrots…it was a fun story and there was a lot of orange in the story…perfect for orange day!!
Our final mystery reader of the week was Juliet's dad! She was so excited to see him come through the door!! He read us the book, The Cat in the Hat Comes Back. We were excited to hear that book because we read the first Cat in the Hat recently. We love all of the rhymes in Dr. Seuss books!!
GRANDMA SHERRY & GRANDPA DON…I was so excited for my special kinders to meet my parents on Friday!! My mom and dad helped me so much this summer getting my classroom ready! They were very excited to meet my class! They had so much fun that they want to come back again!!
UPCOMING DATES:
Monday, Oct. 23 — ART
Tuesday, Oct. 24 – STEAM; LIBRARY; TURKEY TROT AFTER SCHOOL AT 5:00 p.m. 
Wednesday, Oct. 25 — PE;  LITERACY AND MATH HOMEWORK DUE; Color Day —Wear BROWN
Thursday, Oct. 26 – MUSIC; School Picture Retake Day Please return the original picture package during retakes. Absent students pictures will be taken at this time.
Friday, Oct 27 – ART; FALL PARTY AND PARADE— The kindergarten parade will begin at 2:10pm. Our classroom party will follow starting at 2:25ish – 3:15pm. Fun activities are being planned. Your child is welcome to wear the basics of their costume to school and/or the under layers.  We will then add the accessories and the outer layer of costumes before the parade. Otherwise they can bring their costume to school in a labeled bag.  They will be putting on their costumes OVER their school clothes prior to the parade. PLEASE DO NOT INCLUDE WEAPONS OF ANY KIND OR SCARY, GORY MAKEUP.  Please be respectful of others.
Friday, Nov. 3 — Fast Friday—Dismissal at 12:15pm
November 6 & 8 — Parent Teacher Conferences: On Monday, you will be notified of your day and time in the form a note inside your kinder's folder. We have done our best to schedule a conference time to fit your needs, as well as to coordinate sibling conferences. If you have a conflict at your scheduled time, please contact me as soon as possible so that we can make other arrangements.   I am looking forward to sharing the awesome progress your kinder has and is making.
November 6-10—Book Fair:   We are scheduled to purchase books on Wednesday, Nov. 8 from 2:00-2:30 p.m.  Please send your kinder's money in an envelope labeled with YOUR KINDER'S NAME and BOOK FAIR if you wish them to purchase books. The book fair will also be open during conference times. This is optional.  The proceeds go towards purchasing books for use in school. Thank you!
November 22-24—NO SCHOOL…Thanksgiving Break