Popcorn Words:  look, from, run.  We had to look for the Gingerbread man all week!!  He was on the run!!  He kept leaving us messages all week.  
Math:  This week in math we continued to dive into numbers.  We talked about how when we added numbers together they make a new number.  We call those numbers partners, the partners 3 and 5 can make up the number 8.  Also, discovering doubles that make up new numbers.  For example, 1 + 1=2 or 3 + 3=6.  The Kinders LOVE playing Math games every Friday!  They played a Gingerbread Match game, where they rolled a dice twice, added the partners and found the answer.  I am so proud of their Math progress!!
Readers Workshop:  This week we explored how patterns can help us read.  We looked at how in books there are often patterns in the words on each page.  Discovering many pattern books in our classroom.  We found a pattern book that had the same words on each page but the first word changed each time.  For example,  Giraffes are in the zoo, Zebras are in the zoo, etc.  Also, discovering patterns in sentences that the last word changes.  This pattern might look like: Look at the lemonade, Look at the hamburger, etc.  The Kinders loved adding a pattern book to their blue book boxes that we use during our quiet time and read to self time.
Writers Workshop:  The Kindergartners had a lot of fun writing their own pattern books this week.  We wrote patterns that went along with the pattern we looked at during our Readers Workshop time.  They wrote a book called  Here are the ______ and also one called _______ Can Run Fast. One book with a pattern where the last word changes and another where the first word changes in the pattern.  They did an amazing job!  
Literacy Stations:  The Kinders have started to visit two Literacy Stations everyday during our Literacy time.  They work with myself or Mrs. Hatfield (our amazing Kindergarten para-pro) on specific skills to help build reading skills.  The Kinders also work at an independent station where they practice skills they have been taught.  They practice handwriting, practice their sight words (also knows as popcorn words), reading books with words they can stretch out, identifying sounds in words, etc.  They also received a list of words of the first few sight words that popped into our classroom. We call this reading the rainbow.  Each list has 6 sight words on it and is a different color, as the list grows the colors change and we try to read the rainbow of words in our classroom.  The kinder practice recognizing these words, writing these words and spelling them during our literacy time.  As they master the list then they will receive the next list to practice.  They are so excited about this new task!!
Gingerbread Man On the Loose:  This week we took an imaginary trip with our own passports and tickets to try and catch the Gingerbread Man on the loose!  He is on the loose and traveling to different countries!  We boarded our "airplane" with our "tickets" and "passports" (they even got their "passports" stamped). We looked for him in France this week. We discovered that is a long way from where we live in the United States.  The Kinders loved looking at the globe to see the different countries there are.  We first looked for the Gingerbread man at one of Frances famous landmarks, The Eiffel Tower.  We couldn't catch him!!  We also looked at the flag of France.  Noticing that it is different than our American flag.  There are no stars!  However, we did notice that the colors are the same.  Both have red, white and blue colors on the colors.  We will continue to catch the Gingerbread man next week too.  We will visit a new country to find him!!  This has been a fun way to introduce the Kinders to the idea that there are other countries and different symbols that each country has.  The Kinders are also enjoying the many stories of the Gingerbread man!  We have listened to a couple different stories of the Gingerbread man.  Gingerbread Man Loose in the School, The Gingerbread Boy and The Gingerbread Girl.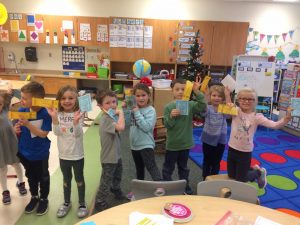 Mystery Reader: This week we had a mystery reader surprise us and come read to us! Juliet's mom, Mrs. Sliwa, visited and read us the book, The Pigeon Needs a Bath by Mo Willems. Mrs. Sliwa had a lot of help reading the book from Juliet…it's one of her favorites!!
North Pole Ninjas:  On Monday morning the Kinders came to school and found a surprise arrival from a North Pole Ninja.  The North Pole Sensei has given us a challenge during the month of December: to spread acts of kindness.  We are up for the challenge!!  Our first challenge was to make an ornament for someone special and leave it for them. We also made hearts for someone we love, mittens for Mrs. Holland (our recess helper) and smiled at people throughout the day.  The Kindergartners were so excited! They are excited every morning to see if our sensei leaves us a mission!!
We got RACKED!!  As we were working hard in our classroom we heard a knock at the door.  We opened the door and found a bag with a note.  It told us we had been RACKED!!  We were hit by a Random Act of Christmas Kindness.  Inside the bag we found a candy cane for each of us.  Thank you for our yummy surprise treat to whoever left us our RACKED bag!!
Holiday Party:  I am still looking for a parent to coordinate the party. If you're interested please email me to let me know. Thank you to all who have volunteered to help!!  More details will be coming soon.  The party will be Thursday, December 21 at 1:50-3:00 p.m.  I am more than happy to welcome you to our classroom party!  We can always use volunteers and the Kinders LOVE having family in our classroom!  
Holiday Program:  Our Holiday Program will be Thursday, December 14, 6:30 p.m. at Harbor Ministries (formerly knows as Fair Haven), 2900 Baldwin Street.  Kindergartners need to be dropped off to me by 6:15 p.m. at our meeting place inside the church.  Our meeting place will be just outside the sanctuary in the "gym area" of the church.  Our Kinders will be attending a rehearsal at the church on Thursday a.m. We will take a school bus to the church and practice the program.  We will leave our school by 10:00 a.m and return by 11:15 a.m. on Thursday morning.  
Winter Has Arrived: Winter weather is here!! We had some very excited kinders when the snow arrived!!  I was pretty excited to see the snow this week too!  The Kinders have done a great job so far putting and taking off their gear.  Thank you to bundlers who have started to help us out!!  Please remember to label your kiddos gear.  It helps me sooooo much with missing items and those several pairs of black snow pants that we ultimately have.  I do keep an extra bucket of mittens, gloves, scarves and snow pants available to kinders just in case.  Check out our fun in the snow!
Fun Friday: We had fun making a snowman craft on Friday! The kids were so excited that they got to take them home! I'm sure you found the perfect spot to hang them up!
Free Choice: During free choice time on Friday, the kinders got to have fun in our Gingerbread Bakery! The kids had fun "mixing, baking and selling" cookies! They were so excited, they wanted to bring some "cookies" home!!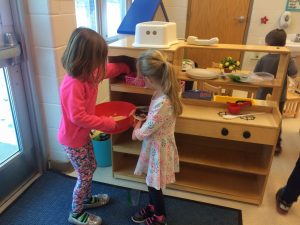 Upcoming Dates:
Monday, Dec. 11…GYM

Tuesday, Dec. 12…MUSIC, LIBRARY

Wednesday, Dec. 13…ART, Homework due.

Thursday, Dec. 14…STEAM, Rehearsal at Harbor Ministries 10-11:15 a.m., Holiday program 6:30 p.m., Kinders arrive by 6:15 p.m. 
Friday, Dec. 15…GYM, ALL SCHOOL P.J. DAY!!

Monday, Dec. 18…MUSIC

Tuesday, Dec. 19…ART, LIBRARY

Wednesday, Dec. 20…STEAM

Thursday, Dec. 21…GYM, 

Holiday Classroom Party 1:50-3:00 p.m.

, LOGAN'S BIRTHDAY!
Friday, Dec. 22…ART, Polar Express Day in K…All K P.J. DAY!!! CHARLOTTE & VIOLET'S BIRTHDAY!

Monday, Dec. 25 – Friday, Jan. 5…NO SCHOOL, HOLIDAY BREAK!!  School Resumes Monday, Jan. 8.