This Week in Kindergarten…
Popcorn Words: he, she 
Our popcorn words this week were he, she. We did many different activities this week to reinforce learning these new words.
Math: In math this week, we continued working on Unit 3. We focused on sorting by different sizes, colors and attributes. We talked about things that are the same and different. We practiced our number sense, by drawing circles to represent the number shown. We also practiced counting a number of objects and writing the correct number that's represented by objects. Learning if numbers/objects are equal or not equal is something else we learned this week.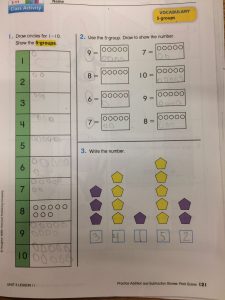 Math Games: We had fun on Friday playing math games. We made an addition snow globe. The kids had to color some of the snowflakes blue and leave some white. They then had to use those numbers to write an equation as the base of their snow globe. Another game we had fun playing was to read a number on the snowman and use unifix cubes to build that number of "snowball" on the snowman. The last math game we played was to go on a polar bear hunt. The kids had to search for numbers hidden around the room and match them to their paper. Math games on Fridays are always a favorite!!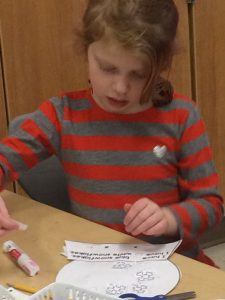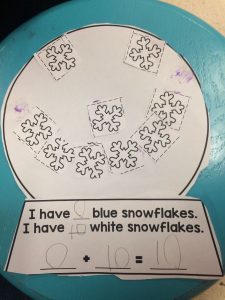 Reading: In reading this week, we practiced using our "SUPER POWERS" when we read!! We focused on our "POINTER POWER" and our "SNAP POWER". When your child is reading to you at home when practicing their take home book, please practice using these powers. 
"POINTER POWER" is when you practice pointing to each word as you read. The kinders have learned to tap one time under each word when reading. They were given rings with wiggly eyes to wear on their pointer finger and to help them remember to use their pointer power!
"SNAP POWER" is when the kinders practice reading the words they know in a snap. We talked about how we've practiced a lot of popcorn words this year. They can read those words in a snap!
Peanut Butter & Jelly Reading: This is also known as Partner Reading. This week we read with our PEANUT BUTTER & JELLY PARTNERS! We practiced the "peanut butter" partner reading and the"jelly" partner pointing to make sure we only read the words that are pointed to, then we switched jobs. It was fun!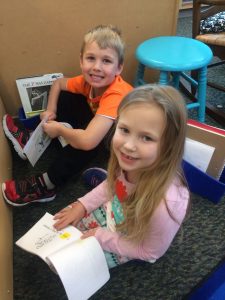 Writing: Writing small moment stories is hard work! The kinders are doing such a great job of learning to think of a story, tell their story to a writing partner, sketch and then write their story. We use the words FIRST, NEXT and THEN to keep our stories in order. Wow…that's a lot of work! It is so exciting to see them become writers!
Literacy Centers: This week during our literacy time, we practiced many different skills. One of the things we practiced was stretching out the sounds that we hear in words, writing them on paper and drawing a picture to match. 
Handwriting: This week in handwriting we practiced the letters w and t. We also practiced writing some words with these letters in them. It's exciting to see their handwriting and letter formation continue to improve! 
VALENTINE PARTY AND VALENTINE EXCHANGE:   Wednesday, February 14 from 1:50-3:00pm. I have heard back from many parents. Thank you all for offering to help out at our party! You will be hearing from someone soon regarding what to bring or where you can help at. 
VALENTINE EXCHANGE:  Information has been sent home. Be sure to have your kinder write their names on each valentine.  Please have your kinder bring their Valentine Cards back to school by Monday, February 12. 
100 DAYS OF SCHOOL CELEBRATION:  Friday, February 9. Start thinking about what 100 items your kinder will like to collect and bring to school.  Your kinders 100 collections will be due on Feb. 9. This is the day that they may bring them into school. Please do not send them into school earlier. The collections will return home the same day. Begin collecting 100 items and decide how your kinder would like to display them.  Have fun! 
UPCOMING DATES:
MON. JAN. 29-PE; TAKE-HOME BOOKS; Happy Birthday to Dean!!
TUES. JAN. 30–MUSIC; Last day to order PE apparel.
WED. JAN. 31–ART; HOMEWORK DUE; LIBRARY-Please remember to return your child's book; TAKE-HOME BOOKS
If your kinder would like a sack lunch on Friday, please email me (jbaker4@hpseagles.net or send a note by Thursday 2/1.
THURS. FEB. 1–STEAM
FRI. FEB. 2-PE; FAST FRIDAY…Dismissal at 12:15pm; NO TAKE-HOME BOOKS TODAY
NO SCHOOL: Monday, February 5 WINTER BREAK
NO SCHOOL: Tuesday, February 6 WINTER BREAK
WED. FEB. 7—Back at school
FRI. FEB. 9—Day 100 Celebration!
WED. FEB. 14—Valentine's Day Party  1:50-3:00pm. Parent volunteers who are working at a party center, please arrive by 1:40pm for instructions & set up. THANK YOU!! NO TAKE-HOME BOOKS THIS DAY.