This Week in Kindergarten…
POPCORN WORDS:  big, with                                                         
The kinders are doing a fabulous job of learning their sight words.  Every morning, I include the week's words in the morning message and our super star for the day has fun calling on a friend to circle the popcorn words. They do a great job finding them…hooray!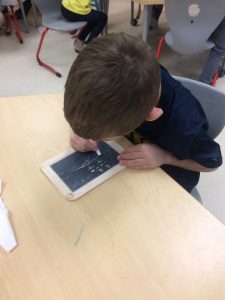 WRITING WORKSHOP:  We worked hard this week telling and writing shared small moment stories.  We wrote about celebrating Dean's birthday and the kinders got to choose their own topic to write about.  We have been practicing telling a story using the words FIRST, NEXT and THEN to keep our story in order. We practice telling the story across our fingers, with a sketch and with words. The kinders are doing an amazing job remembering to add details and labels in their drawings.  They are also working very hard to use popcorn words, spaces between words and sentence stoppers (.  !  ?)  I am so proud of them!! Way to go Kinders!!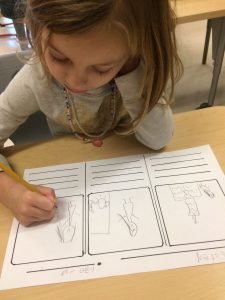 READER'S WORKSHOP:  I am so proud of how well the Kinders are doing using their SUPER POWERS when they are reading! This week we continued to use our POINTER POWER, SNAP POWER and PARTNER POWER and added more SUPER POWERS…we now have the powers of PICTURE POWER and SOUND POWER!
"PICTURE POWER" is when we look at the pictures to help us figure out what the words might be.
"SOUND POWER" is when we practice listening to the sounds we read because just looking at the picture is not enough.  We practiced covering the pictures in books to really practice this super power.  Focusing really hard on the sounds we hear to figure out words.
MATH: In math this week we focused on learning about teen numbers. We practiced finger flashing the number 10 and then showing how many extra ones. We even learned what equations look like with the number 10 + a number. We practiced writing our numbers and adding and subtracting.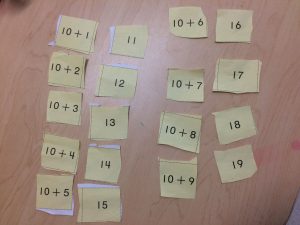 GROUNDHOG DAY: On Friday, we had a lot of fun celebrating Groundhog Day! We learned about groundhogs and how and where they live. We got to vote if we thought the groundhog would see his shadow or not. We watched the video of the groundhog coming out of its burrow and learned that we will have 6 more weeks of winter. Most of the Kinders thought spring would be coming soon! We made groundhog headbands, read and made a groundhog book, made groundhog patterns, made a craft and even had a special groundhog treat. We had "dirt" (chocolate pudding) with a "groundhog" (Teddy Graham) coming out of it.  🙂  We even had fun pretending we were groundhogs on the playground!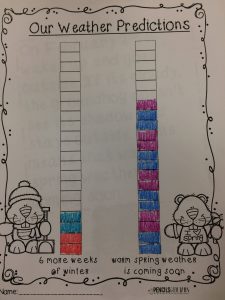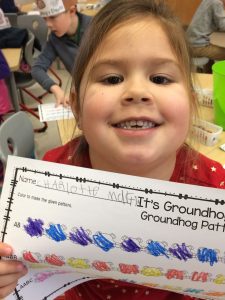 MYSTERY READERS: We were lucky enough to have 2 mystery readers visit our classroom this week!! First, Ian's Aunt Laura and cousin came to visit our room and read us a story. She read us the book Bear's New Friend. We love Bear books and enjoyed hearing the story. Ian was so excited to see his aunt and cousin walk through the door! 
Quinn's dad was our next mystery reader this week. He surprised Quinn when he came through the door! He read us two books…one of them was a favorite of his from when he was little. He read us The Boy With Square Eyes and Sam & Dave Dig a Hole. We liked both of the books a lot! 
UPCOMING EVENTS:
100 DAY CELEBRATION:  Information has been sent home.  Please note that all collections are to be sent to school on Friday, February 9.  I know it will be so much fun for the children to share.  These collections will be returned home the same day.  Thank you for assisting your child in this great math learning opportunity!
VALENTINE PARTY:  We will celebrate as a class Wednesday, February 14 from 1:50-3:00pm. Party center volunteers please arrive by 1:40pm for instructions and set up. Thank you to all the parents who are donating and preparing our activities. 
UPCOMING DATES:
NO SCHOOL: Monday, February 5 WINTER BREAK
NO SCHOOL: Tuesday, February 6 WINTER BREAK
WED. FEB. 7—Back at school; GYM; HOMEWORK DUE; TAKE HOME BOOKS
THURS. FEB. 8—MUSIC
FRI. FEB. 9—ART;  Day 100 Celebration….100 Collections are DUE; TAKE HOME BOOKS
WED. FEB. 14—Valentine's Day Party  1:50-3:00pm   Parent volunteers who are working at a party center, please arrive by 1:40pm for instructions & set up.  *NO TAKE HOME books this day.
VALENTINE CARDS: Please remember to be working on your Valentine cards at home with your Kinder. This should be a fun activity for them to do!! Whenever they are finished with their cards, they can bring them in to school. We are going to make our Valentine bags next week! 

Have a fun-filled Winter Break!  I will be excited to see the Kinders on February 7 and hear all about their break!!  🙂   ~Mrs. Baker