100 Days of Learning and Fun in Kindergarten!!
Enjoy the pictures from our fun day of celebrating 100 Days in Kindergarten! We had so much fun! I'm hoping you heard all about it at home! We counted up to 100!! We've been waiting to fill up our chart! We shared our collections of 100!! It was fun to see what everyone brought to share! 
We had fun creating a snack of 100 food items!! We had to count 10 pieces of 10 different snacks. We had Fruit Loops, popcorn, pretzels, marshmallows, Cheerios, Skittles, Rice Chex, Raisins, Goldfish crackers and Bugles. By the time we finished we had a 100 piece snack…wow, what fun!!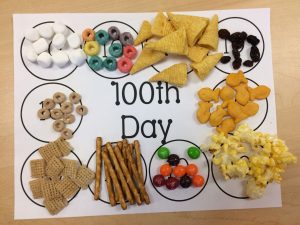 We had fun making a gum ball machine craft! We tried our best to put 100 dots onto our own gum ball machine!!
We read some fun 100 day books!!
We made 100's day crowns to wear, made a book all about the number 100, tried to do things like see how many times we could jump up and down in 100 seconds and write our name in 100 seconds. We even had the number 100 in our morning message!
At the end of the day, we got to bring home a glow stick that said we are 100 days brighter and cookies that made the number 100!! It was such a fun day!!