THIS WEEK IN KINDERGARTEN…
POPCORN WORDS: Our popcorn words this week were said, make. We did many different activities this week to reinforce learning these new words.
MATH: This week in math the kinders explored with shapes. They used shapes to make new shapes…using triangles to make squares and rectangles and using squares to make rectangles. They did a great job exploring and are getting to know their shapes so well! This week we also focused on sorting pictures and objects. The kinders practiced sorting colors and shapes, types of animals, people and animals. They also had fun exploring different ways to sort buttons, insects and animals. We finished our week by talking about positional words. We made astronaut books that taught positional words.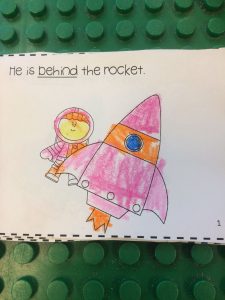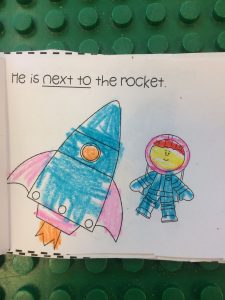 MATH GAMES: On Friday, the kids had fun playing different math games. The practiced their math skills by drawing a number  of buttons on the snowmen, working on number sense using Play-Dough, sorting objects and "Roll A Snowman."
WRITING WORKSHOP:  We are diving deeper into writing Small Moment stories that are true one time, one place stories. At the beginning of the week we worked together to choose a small moment story about trying a gummy bear. We practiced telling the story over our fingers, drew detailed pictures and worked on stretching out sounds in the words we wrote. Don't forget that we also work to include spaces between popcorn words and sentence stoppers (punctuation). Wow!! Next week the kinders will have the opportunity to choose their own small moment to write about.    This is a VERY challenging unit for kinders! I am so proud of them working hard and trying their best!! Way to go Kinders!!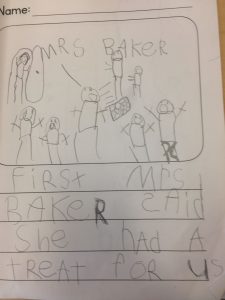 READING: This week in reading we learned that Letters Help Us Read! We learned that when you read, you need to…look at the first letter, switch up the first letter if it doesn't match the word you're saying, look all the way through a word (to make sure it's the right word), and to stretch out the word you're reading. We practiced this in our reading every day!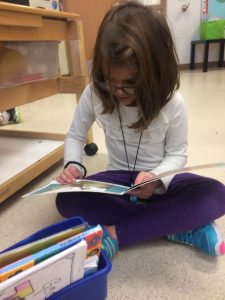 Martin Luther King, Jr. often spoke about wanting people to get along and worked hard to change laws (rules) that were not fair.  We made friendship bracelets, found popcorn words within a simple book about Dr. King and looked at a Let's Find Out newspaper and talked about his initials  MLK. I love that we can together celebrate our uniqueness and friendship!  It is so heart warming to see the kinders fill each other's buckets each day.  
SPLIT LIT: This week during our split lit time, we practiced many different literacy skills. We practiced reading, our popcorn words, sight words, letters and sounds, rhyming and listening to books on CD. We were able to choose which station we wanted to go to…all by ourselves!! Mrs. Baker, Mrs. Hatfield and Ivy (a 5th grade helper that comes to our class to work with us) were able to work with us during this time too.
DRAMATIC PLAY: We had so much fun this week during our free choice time! We had a new dramatic play area set up…a vet clinic! There are animals (dogs, cats, bunnies, birds, hamsters), scrubs, doctor tools, food dishes, collars and leashes, pet information sheets, even real dog bones! We are excited every day to get to play at the vet clinic!!
SNOWMAN CRAFT: On Friday, we made our own puffy paint!! We painted paper plates with the puffy paint, added eyes, a nose, a mouth, and a hat. They turned out so cute and are hanging up in our classroom!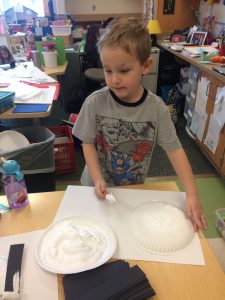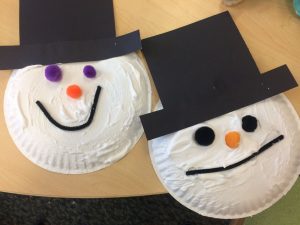 KINDERGARTEN FUN: The past two weeks we have gotten together with other kindergarten friends for some playtime. Last week we got invited to Mrs. Bohl's class to play with our friends. This week, Mrs. Stutz's class came to our classroom to play with our friends. It is so fun to get to see our kindergarten friends and get to know them better! 
UPCOMING DATES
*MON. JAN. 22–-STEAM; reading TAKE  HOME BOOKS
*TUES. JAN 23–-PE, LIBRARY…bring back your books 🙂   
*WED. JAN. 24––MUSIC;  HOMEWORK DUE; readingTAKE HOME BOOKS
*THURS. JAN. 25–-ART
*FRI. JAN. 26—STEAM; reading TAKE HOME BOOKS
*FRI. FEB. 2—Fast Friday (Early Release)
*MONDAY, FEB. 5 & TUESDAY, FEB. 6—Winter Break Day—No School
*TUES. FEB 7—School begins again
*FRI. FEB 9—Day 100 Celebration
*TUES. FEB. 13—Valentine's Day Party 2:00-3:00pm Planning will begin soon.