We had fun making some cute, colorful turkeys! 
POPCORN WORDS: or, for
READING: This week during reading, we continued learning all about our reading Super Powers! We continued using our POINTER POWER and REREAD POWER. We learned new powers too…PICTURE POWER, SNAP WORD POWER and SOUND POWER. We used PICTURE POWER when we get to a tricky word we aren't familiar with, we use PICTURE POWER to help us figure out the tricky word. Pictures are helpful when reading! We used SNAP WORD POWER to read the popcorn words (snap words) we are so familiar with, reading them in a snap! We practiced reading a familiar nursery rhyme – The Itsy Bitsy Spider. The kindergarteners practiced reading the words that I pointed to, making sure we were on the same word. We used our SOUND POWER when we needed more help than just the picture was giving us. We looked at a picture of a beetle and guessed what the word would be. Then we uncovered the first letter and made that sound. We finally uncovered the whole word learning that it was a beetle.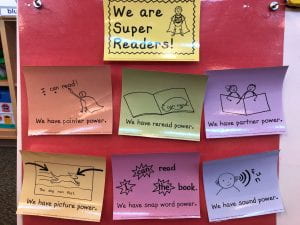 WRITING: During writing this week, we wrote another small moment story. We started the week by having a treat – a gummy bear! We wrote about what happened first, next and last. We used those words on our writing papers too. The kinders drew pictures to match their words, labeled the pictures, wrote sentences and then added…a speech bubble! It was fun to learn about speech bubbles by reading Elephant and Piggie stories and then trying out speech bubbles in our own stories! 
MATH: In math this week, we learned all about hexagons! We learned that hexagons have 6 sides and 6 corners and even learned a fun song about hexagons. We practiced subtracting 1 from a given number. We used fun erasers to practice this skill and then tried it on a worksheet. We practiced writing the numbers 8 and 9 and helped Puzzled Penguin learn the difference between the number 6 and the number 9. We finished the week by practicing our number writing. We wrote the numbers in order and helped Puzzled Penguin do the same!
LITERACY: During our literacy time this week, we added some new pages to our literacy binders. The Kinders worked hard on these new pages – looking at the pictures and then stretching out the words, listening for all the sounds you hear in the words. We also practiced listening for syllables in words. We finished the week by playing Simon Says. "Simon" told the kids to write a SNAP word on their whiteboards. We are working hard on all these literacy skills!
VETERAN'S DAY: We learned about Veteran's Day! We read a Scholastic News and learned what a veteran is and why we have Veteran's Day. We made a veteran craft to bring home! Thank you to all veteran's and all active service men and women for your service!
WANTS AND NEEDS: We learned about wants and needs this week. We talked about what a need is and what a want is and learned the difference between them. We had fun sorting pictures into wants and needs, read a Scholastic News about wants and needs and made a little wants and needs book to bring home and share with you!
IMPORTANT INFORMATION…
Our annual P.E. C.A.R.E.S food drive is continuing until November 18. Thank you so much for all of the food donations! If you would like, you can still send in food items.  Food items to consider are canned vegetables and fruits, pasta, rice, baked beans, black beans, kidney beans, peanut butter, tuna fish, etc. (please no ramen noodles) The class with the most items at noon on November 18 will win a bowling trip to Hudsonville Lanes (if allowed later in the year) and a P.E. C.A.R.E.S t-shirt.

Continue to send your child with warm winter clothes each day! Please remember to label all of their winter things! Many items look alike and it's always helpful to be able to look for a name!
UPCOMING DATES…
Monday, November 16: Art; Book Fair preview day; Virtual parent-teacher conferences
Tuesday, November 17: STEAM; Library – remember to bring back books!
Wednesday, November 18: Music; Book Fair shopping day; Virtual parent-teacher conferences
Thursday, November 19: Gym
Friday, November 20: Art
November 23 – November 24: No in-person class – I will be sending things home for your Kinder to work on at home. 
November 25 – November 27: No School – Thanksgiving Break
Our 5th grade buddies surprised us with a world kindness day poster! That was such a nice thing to do for our class! I hope you all have a wonderful weekend!