POPCORN WORDS: at, that, was
READING: This week during reading, we got an exciting tool to use when reading at school! It is called our reading mat. We used our reading mats to sort our books into a stack – from the easiest to the hardest books. Then we read them – starting on the green arrow (start) and putting them on the red arrow (finished) when done. Then we read them again – reading them back to the green arrow side. We also learned about looking for patterns in our books. We started by noticing the pattern in our cubes. We practiced reading pattern books, noticing the pattern as well as when the pattern changed. I am proud of how hard the Kinders are working during our reading time…they are learning a lot!
WRITING: During writing this week, we started learning about writing How-To stories. We started the week by talking about things we know how to do and things we are good at doing. Then we practiced writing how-to stories. We put pictures in order of what happened first, next, then and last. Then we wrote the words to match the pictures. We wrote about how to make a snowman, how to make cookies and how to get ready for school. It was a fun new type of writing!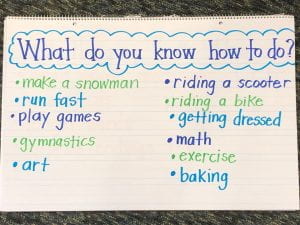 MATH: This week during math, we learned about shapes and how putting shapes together can make different shapes. We had fun using shapes and trying to make new ones! We also practiced our teen numbers. We learned about how there is a "hidden" 10 behind teen numbers. For example, in the number 14 – there is a 10 and 4 extra ones. We finished the week by learning about sorting pictures by shapes, colors, sizes and other fun ways. 
LITERACY: During our literacy time this week, we worked on our popcorn word books – looking for the words we know inside the books. Wow!! We know so many words now! We looked at the word at and then made other words from that word. We also worked in our learning binders and read a poem that focused on our word that. 
MATH GAMES: We had fun playing math games during our break times this week! We played counting games, color games and puzzles. It was fun!
THANK YOU so much for all of the graham crackers and Clorox wipes sent in! I really appreciate it! 
SNACKS: Please remember to continue to send your child with 2 snacks each day. We have a morning snack break and an afternoon snack break. 
SNOW GEAR: Please remember to send your child with a coat, snow pants, hat, gloves/mittens and boots each day to school. We play outside 2 times a day during the winter/snow season. You do not need to have your child wear the snow pants to school. We don't go outside to play until lunch time. 

TAKE HOME BOOKS: 

On Tuesday, your Kinder will be bringing home a bag with 4 books in it. These books are for them to practice reading with you at home throughout the week. I would like for them to practice them all week and then return them the next Tuesday. I will give them 4 new books each week. There will be 2 books at your child's independent reading level and 2 books at their instructional reading level (a level above their independent level). There will be instructions in the bag along with reading strategies to help you when reading with your child. Happy Reading! 
UPCOMING DATES…
Monday, January 11: Gym
Tuesday, January 12: Art; Take Home Book come home for the first time (please return next Tuesday); Library – remember to bring books back
Wednesday, January 13: STEAM; Homework due
Thursday, January 14: Music
Friday, January 15: Gym; Early Release Day – dismissal at 12:15
Enjoy some cute pictures of the kids playing in the snow at recess! I couldn't get to all of them to get pictures, but I did get a few! Have a wonderful weekend!